In a moment of acceleration and rapid climate change artists must ask what it means and entails to approach this moment—the Anthropocene—from the vantage point of art-making. How can artists recalibrate notions of art to respond to this new planetary epoch? And how can artists use the sites of art to imagine a new future? These questions have no defined answer, and many artists are finding new ways of exploring, investigating, and questioning the complexities of an ecology known or unknown to them. The wide range of exploration and recalibration in art-making is exemplified in Song of the Cicada at Honor Fraser Gallery, a group exhibition curated by Debra Scacco. The exhibition brings together all of the artists who have participated in Air Projects, a residency program founded in 2017 that supports artists who think strategically about climate and its implications environment and human interconnection.
The topic of humans and nature is far from new in the arts. In a way, art has always fundamentally been about relaying the human experience being in, and a part of, the environment as a living creature. It is often referred to as "eco-art" and "environmental art." However, beginning in the 1960's, many of the works were typically aesthetic interventions forced onto the environment by artists with little to no understanding of the geographical area in which they were working. Since then this genre of art-making has moved beyond context solely concerned with aesthetics and into an exchange with the environment itself.
Song of the Cicada is cleverly named after the Brood x Cicada that was hatched by the billions in 2021. Like the Cicada re-emerging after 17 years underground, humans are at a moment of re-emergence after a year of isolation. Motivated by a sense of urgency and care, the artists in this exhibition probe how we might move forward, imagining what the future might look like by questioning our purpose and interactions. And with Scacco's curation, Song of the Cicada explores the depth and complexity of our relationship to nature in the Anthropocene.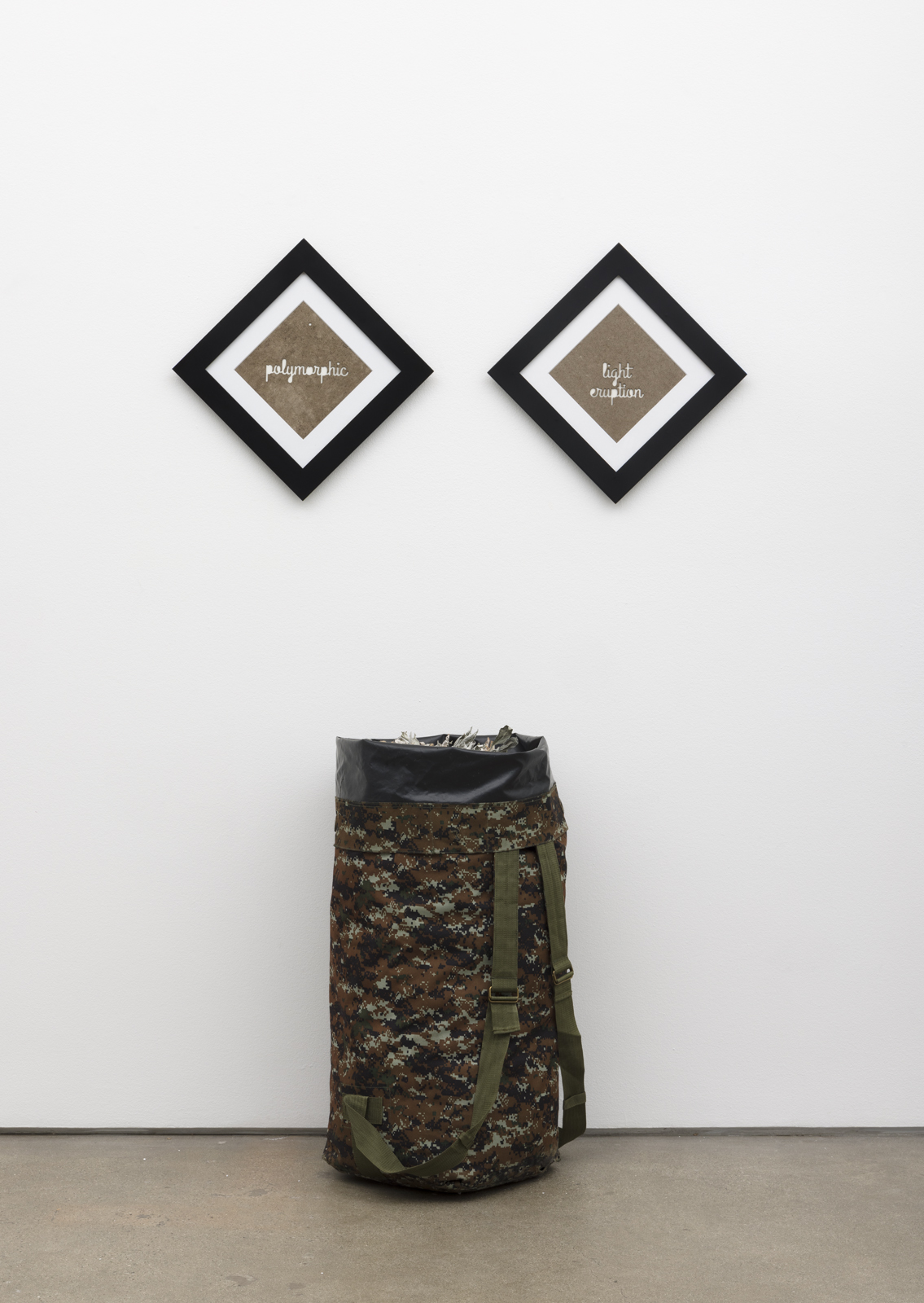 Joel Garcia, polymorphic light eruption, 2021. Courtesy of the artist and Honor Fraser Gallery, Los Angeles.
Polymorphic Light Eruption by Joel Garcia, for example, focuses on the capitalist abuse of land, which impacts Native Culture on a consistent basis. This work takes as its subject the poaching of sage from Native cultures by wellness industries, and how that demand has caused poaching problems on California public lands. When that happens, the sage is confiscated and redistributed to a number of community leaders of various tribes. Garcia's piece is an isolated representation of one of the duffle bags that contain 100 pounds of unusable poached white sage. Set against the backdrop of the gallery's white wall, the duffle bag becomes a symbol of appropriation and colonization.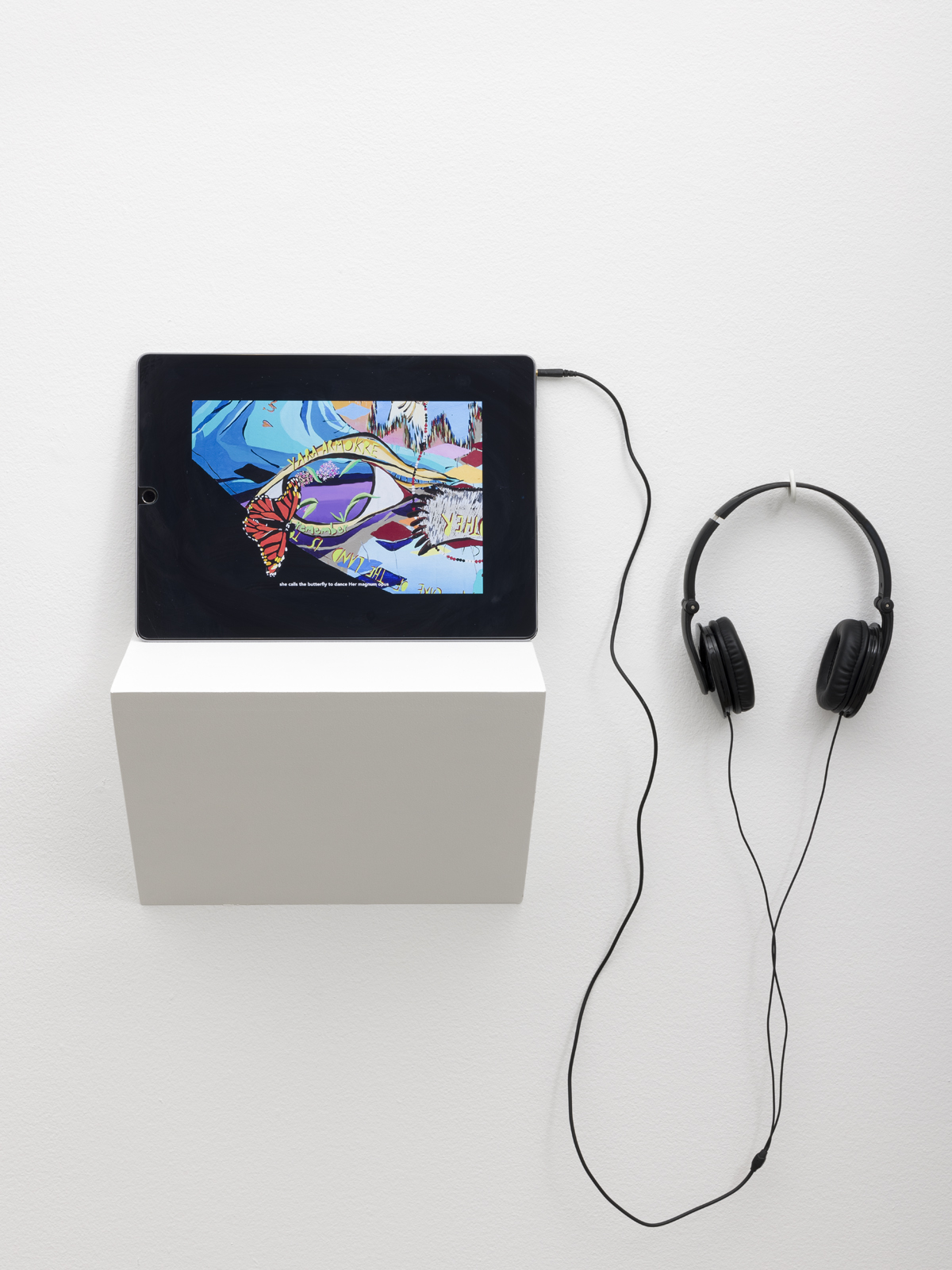 iris yirei hu, Jorge Expinosa and Megan Dorame, Pakook koy Peshaax (The Sun Enters the Earth and Leaves the Earth), 2021. Courtesy of the artist and Honor Fraser Gallery, Los Angeles.
Iris Yirei's works focus on our relationship with land and how to be in consonance with living systems. Pakook toy Peshaax (The Sun Enters the Earth and Leaves the Earth) is one such work. Pakook toy Peshaax, which was a collaboration with Tongva community leader, Julia Bogany, and Tongva poet, Megan Dorame, and was originally shown as a functioning sundial at LA State Historic Park, considers the life cycle and rehabilitation of raw materials. Through Native symbols, eclectic colors and expressive brushwork, it harmonizes chaos, and merges past and present. It leaves one asking, "where do I lie in this cycle?"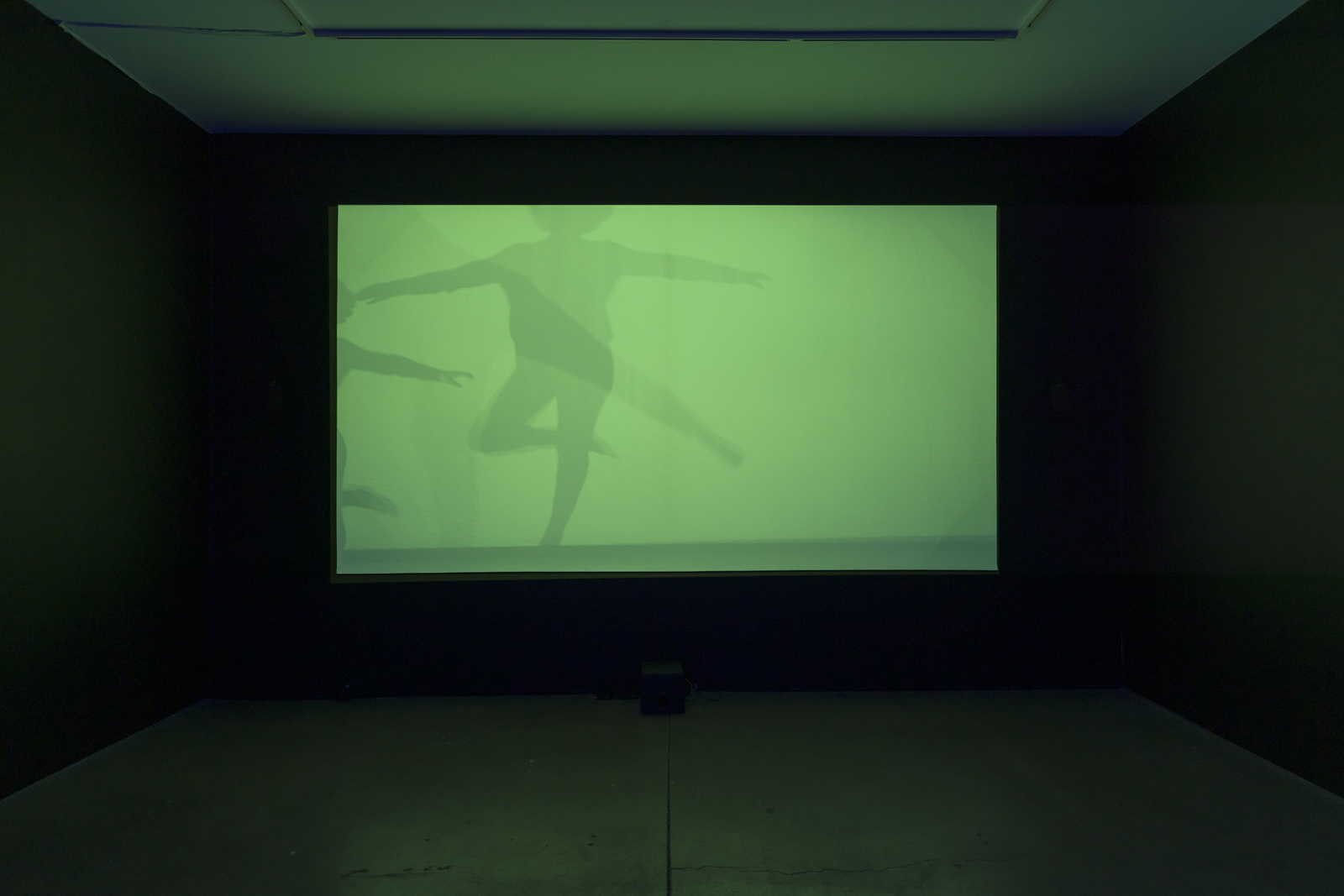 Rebecca Bruno, Procession Relic, 2018. Courtesy of the artist and Honor Fraser Gallery, Los Angeles.
Rebecca Bruno's piece, Procession Relic, documents a performance she originally exhibited at the Bootleg Theatre during her residency with Air Projects. While its content does not directly point toward nature or landscape like the other works in Song of the Cicada, it nonetheless embodies nature through the passing of time. Procession Relic is an extraordinary performance, inspired by permaculture, wherein dancers move in and through layers of color, which transition as though signifying the passing of seasons. Its composition is a harmonious push and pull; a return to earth.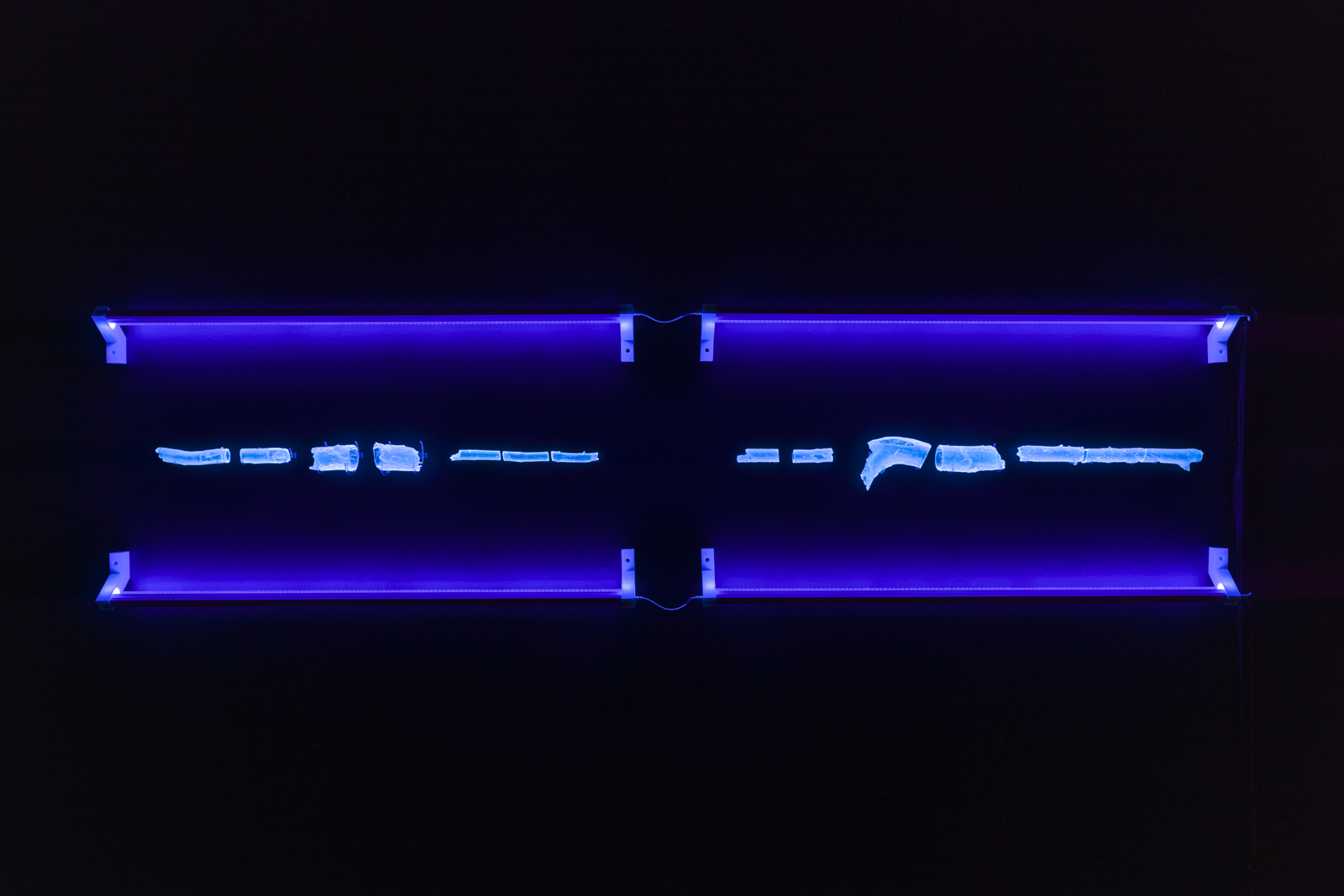 Britt Ransom, Singers of the Song that Sleeps Underground, 2021. Courtesy of the artist and Honor Fraser Gallery, Los Angeles.
Almost contrary to Bruno's piece, Brit Ransom's Parallel Paths adopts a more clinical approach and aesthetic. Using 3D-printing, Ransom addresses the rapid rise of bark beetles and their devastating influence over California wildfires. Parallel Paths features an arrangement of 3D-printed branches, made to scale and in transparent material, that expose the paths of these beetles. But the intricate tunnels depicted seemingly resemble freeways, street patterns, and complex grids, illuminating our own invasive interventions on the environment. Parallel Paths begs the question: maybe we are the biggest pests of all.
Moving beyond strictly aesthetic concerns to an exchange with the environment itself, Song of the Cicada is not only an exhibition about conscious reemergence, but it also marks a new kind of art-making, one less concerned solely with aesthetics and more focused on the role and function of aesthetics within our living ecosystems.
"Song of the Cicada"
Curated by: Debra Scacco
July 17, 2021 — August 28, 2021
Honor Fraser
2622 S. La Cienega Blvd.
Los Angeles, CA 90034
For more information about Air Projects, Visit AirProjects.Art, follow @Airprojects.Art or get in touch at Hello@AirProjects.Art