In more ways than one, a garden is an apt metaphor for describing life. It's difficult to tend; it requires patience, skill, and planning; and sometimes, despite a great deal of love and labor, the seeds we plant don't always grow or blossom as we had hoped. Our internal lives can act as a garden, too, offering a place of secrecy and protection; a place which also needs nurturing, yet thrives amidst the cacophony of the external world. Like a shielded greenhouse or "hot house," this garden can spring to life during moments of exhaustion or unfathomable loss.
Isn't it art that best tells the story of these ineffable occasions? That certainly seems true of Colleen Herman's work, whose abstract paintings, which are heavily influenced by nature, are just as conceptual and psychological as they are material.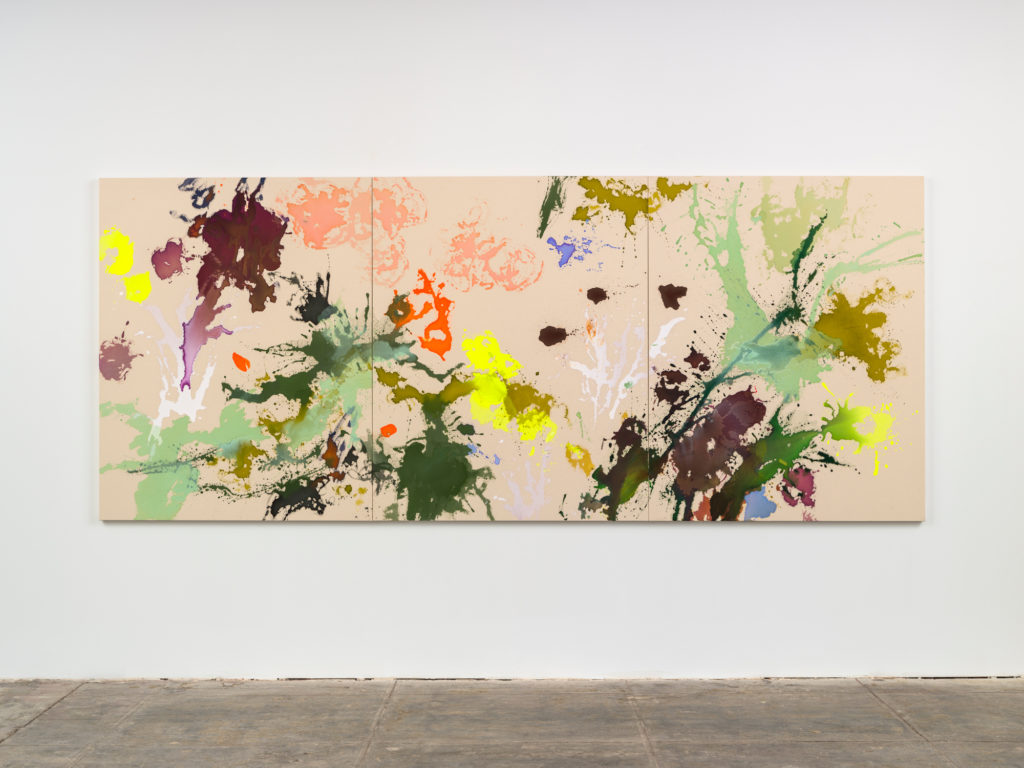 Presented by Sarah Brook Gallery in its new Hollywood location, "Hot House" is a solo exhibition of eleven large abstract paintings by New York-based artist Colleen Herman.
Walking through the show, we are introduced to several compositional styles. They range from sparse collections of bright hues stained into the canvas (as in Flux i, ii, iii [2023]), to fully saturated pools of color that engulf the picture plane (as in An Offering [2022]). In this body of work, color—and in particular a rich oxblood and deep seaweed—are the leading actors.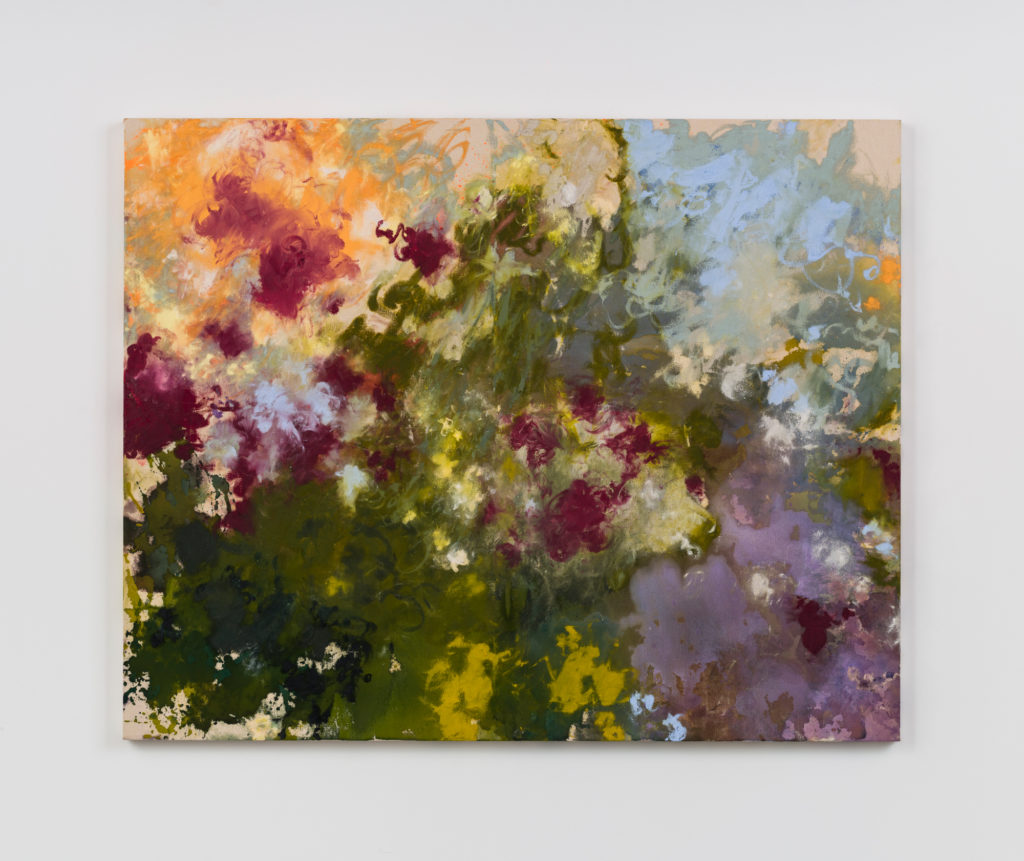 One standout painting, Lush (2023), bursts with pools of hunter and mossy greens, and splashes of flare and buttery yellows. There are also small windows through the composition's "canopy," revealing periwinkle and cobalt, the kind you would find gazing deeply into the sky or clear water. Making the work even more lush is Herman's brushwork, with lines looping and bending as if expanding off the canvas, evoking vibrant and tenacious growth. We can appreciate the bounty of Herman's brushwork and color choices when we start to sense abstract concepts emerge from its abstract forms; the fullness of Herman's paintings invites a reading of strength and flourishing.
In another work, Pyre (2022), Herman's brushwork certainly cultivates concepts deserving of the work's title. Smokey chartreuse swirls over a dark, mossy-green composition. Flare yellow clusters seem to both blossom and snake through the composition. A puffy white column and cool gray forms expand upward into raw canvas. Perhaps Pyre alludes to a sacrifice needed to move forward in life, or an act of removing the dead-weight from our lives. But whatever pain has been endured here, Herman's palette also offers a sense of overcoming it.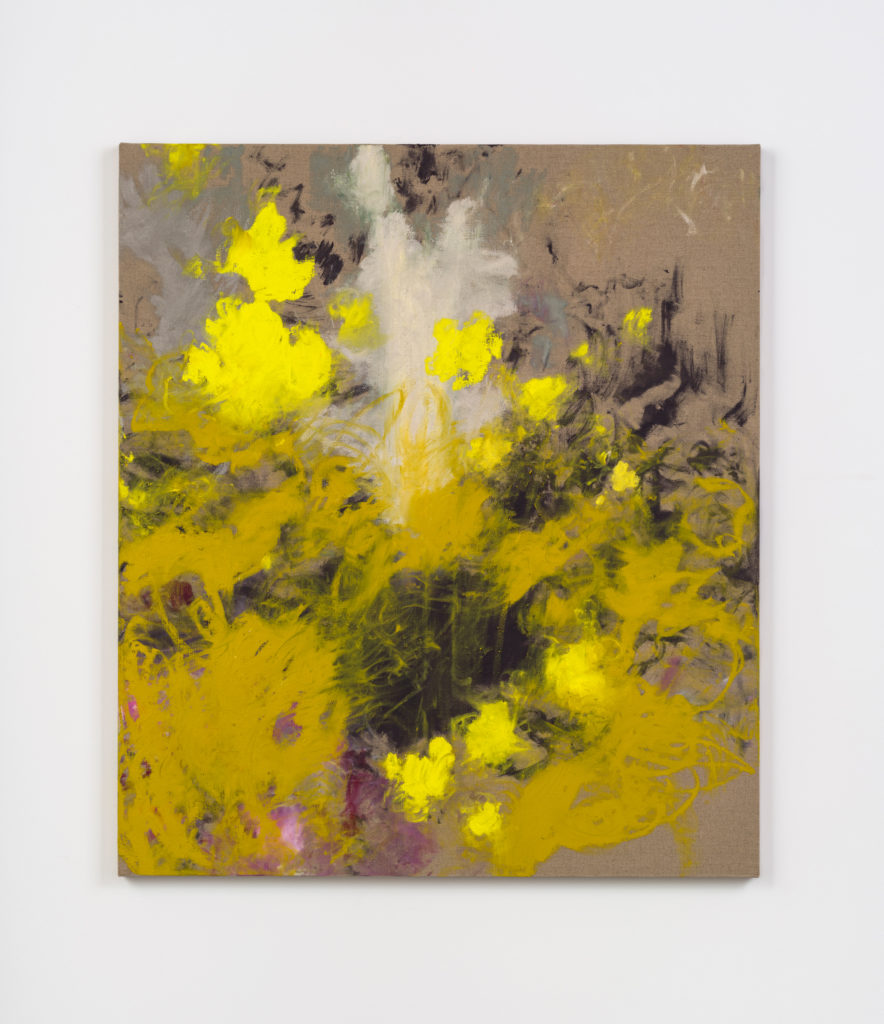 While the beauty of Herman's paintings stems from her deep understanding of color relationships, the true strength of her work is how she uses color to map complex thoughts like self-reliance and fortitude. Portraying our inner lives so vibrantly on canvas, the psychological realities of her abstractions—which are both nurturing and tumultuous—feel at times even more palpable than the paint. It's in exhibitions like "Hot House" where we can experience how "art is the guarantee of sanity," as Louise Bourgeois once eloquently stated—and we all deserve that reminder from time to time.
Colleen Herman
Hot House
Februrary 15 – March 25, 2023
Sarah Brook Gallery
Los Angeles, California 90027
www.sarahbrookgallery.com
---
Ashley Ouderkirk is an independent curator, art writer, and emerging artist advisor who splits her time between New York City and Los Angeles.